SMSTS Log Parser Tool
Last Updated: Oct 13, 2021 (UTC)
---
If you have ever created a SCCM/MECM task sequence, you know the first place to look when troubleshooting is the smsts.log file.
I developed the SMSTSLogParser tool to aid with troubleshooting by quickly identifying issues within the task sequence. The tool parses all of the smsts log files in the selected directory, pulls just the relevant information, and outputs the information in an easily readable format.
Features:
Shows every step in the task sequence
Highlights errors
If the group/step has a condition, it will show whether it evaluated to be true or false
Shows the time taken to run each step
Shows the time taken to run the entire task sequence
For applications, shows how long each application took to install
If using Packages, shows where the content was downloaded from (if Include File Downloads is checked)
Full text search that highlights the search term
Parses the logs in order, based on the timestamp of the first log entry in each file
Outputs to a text file so it can be shared with others
To use the tool, just point it to a directory that contains all of the smsts logs you want to parse.
Download: SMSTSLogParser.zip
---
THE SOFTWARE IS PROVIDED "AS IS", WITHOUT WARRANTY OF ANY KIND, EXPRESS OR IMPLIED, INCLUDING BUT NOT LIMITED TO THE WARRANTIES OF MERCHANTABILITY, FITNESS FOR A PARTICULAR PURPOSE AND NONINFRINGEMENT. IN NO EVENT SHALL THE AUTHORS OR COPYRIGHT HOLDERS BE LIABLE FOR ANY CLAIM, DAMAGES OR OTHER LIABILITY, WHETHER IN AN ACTION OF CONTRACT, TORT OR OTHERWISE, ARISING FROM, OUT OF OR IN CONNECTION WITH THE SOFTWARE OR THE USE OR OTHER DEALINGS IN THE SOFTWARE.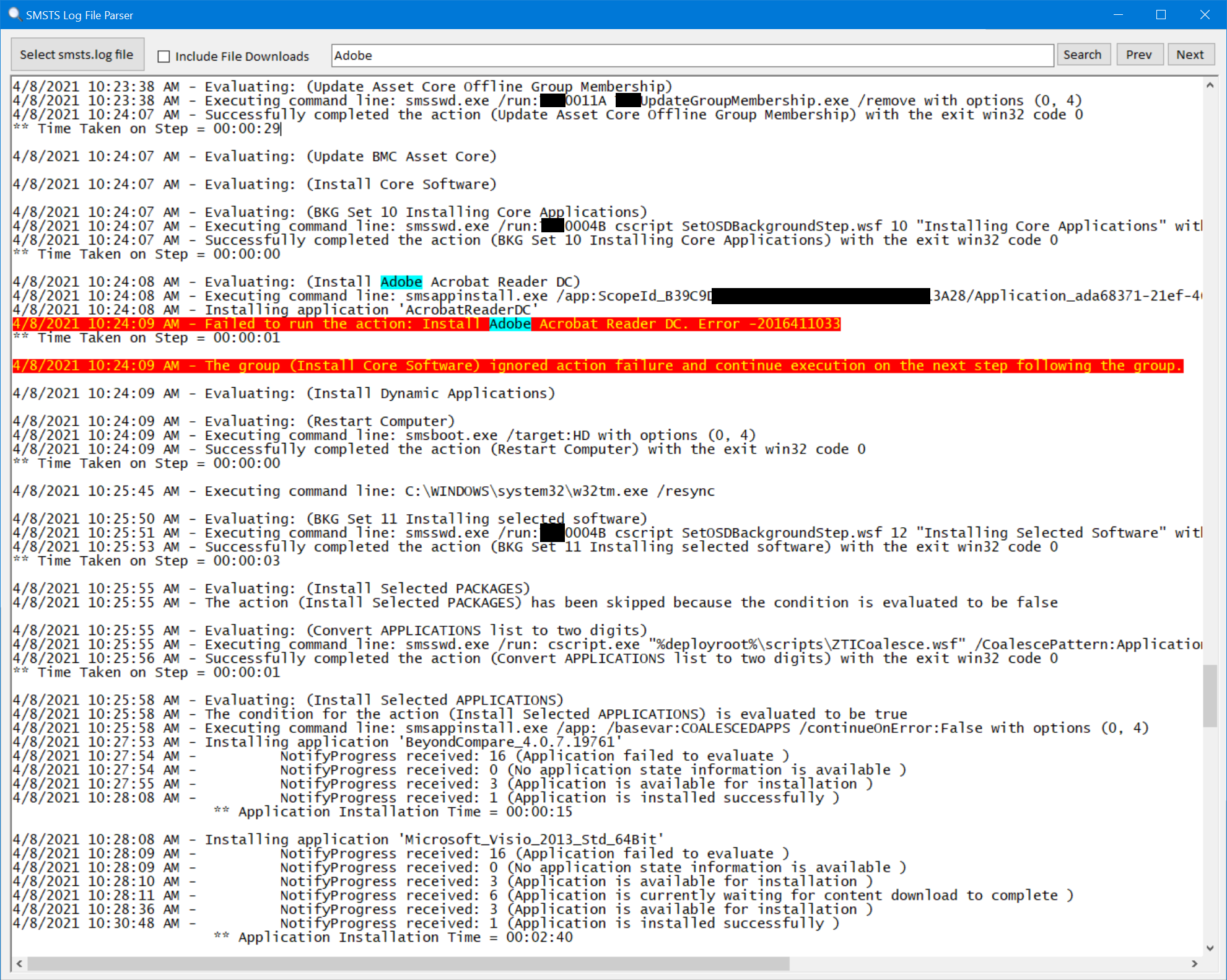 ---
---
Comments:
Error!